PREMIUM HYALURON & COLLAGEN with Swallow's Nest
Description
PREMIUM HYALURON & COLLAGEN with Swallow's Nest – Collagen Kết Hợp Tinh Chất Tổ Yến
SUPPLEMENT FACTS
Serving Size: 1 bottle (50ml)
Serving per Container: 10
Calories 70
Sodium ………………………… 15mg
Total Carbohydrate ………………………… 10g
Protein ………………………… 7g
Vitamin C ………………………… 1,000mg
Vitamin B1 ………………………… 1.0mg
Vitamin B2 ………………………… 1.1mg
Vitamin B6 ………………………… 1.0mg
Biotin ………………………… 45ug
Hyaluronic Acid ………………………… 120mg
Collagen ………………………… 5,250mg
Elastin ………………………… 15mg
Pearl Coix extract ………………………… 450mg
Swallow's Nest extract ………………………… 18mg
Made in Japan
1 Box (10 bottles x 50ml)
Collagen Kết Hợp Tinh Chất Tổ Yến là sự kết hợp đặt biệt của Collagen, Hyaluronic Acid và tinh chất Yến sào thượng hạng. Một công thức kết hợp hoàn toàn mới dành cho sức khoẻ và sắc đẹp từ Fine Japan. Yến sào chứa hàm lượng protein vượt trội (45-55%) với 18 loại axit amin cần thiết giúp tái bào và bồi bổ sức khoẻ toàn diện cho cơ thể.
Công Dụng:
Tinh chất yến sào thương hạng giúp thanh lọc phổi và cải thiện hệ hô hấp.
Phục hồi các tế bào bị thương tổn.
Tăng dưỡng chất và độ dẻo dai cho xương khớp.
Đẩy lùi tiến trình lão hoá, giúp da căng mịn và hồng hào
Giúp làm mờ các vết nám trên da và phục hồi những tế bào da bị tổn thương.
Cung cấp chất nhờn cho xương khớp.
Cách Sử Dụng:
Mỗi ngày dùng 1 chai vào mỗi buỗi sáng sau bữa ăn.
Thơm ngon hơn khi bảo quản trong ngăn mát tủ lạnh.
Lưu Ý:
Sản phẩm này không phải là thuốc và không có tác dụng thay thế thuốc chữa bệnh.
Premium Hyaluron & Collagen with Swallow's Nest is a special combination of Collagen, Hyaluronic Acid, and premium swallow's nest extract. A brand new compound formula is a satisfying supplement for health and beauty from Fine Japan. Swallow's nest contains superior protein content (45-55%) with 18 essential amino acids to help regenerate cells and enhance overall health.
Benefits:
Swallow's nest essence helps purify lungs, improve the body, and eliminate toxins.
Restore damaged skin cells by providing essential collagen and vitamins.
Prevent skin aging and breakouts.
Increase nutrients and elasticity for bones and joints.
User Manual:
As a dietary supplement, take 1 bottle a day after a meal.
Store in a cool and dry place.
Disclaimer:
These statements have not been evaluated by the Food and Drug Administration. This product is not intended to diagnose, treat, cure or prevent any diseases.
Shell Life: 2 years from the manufacturing date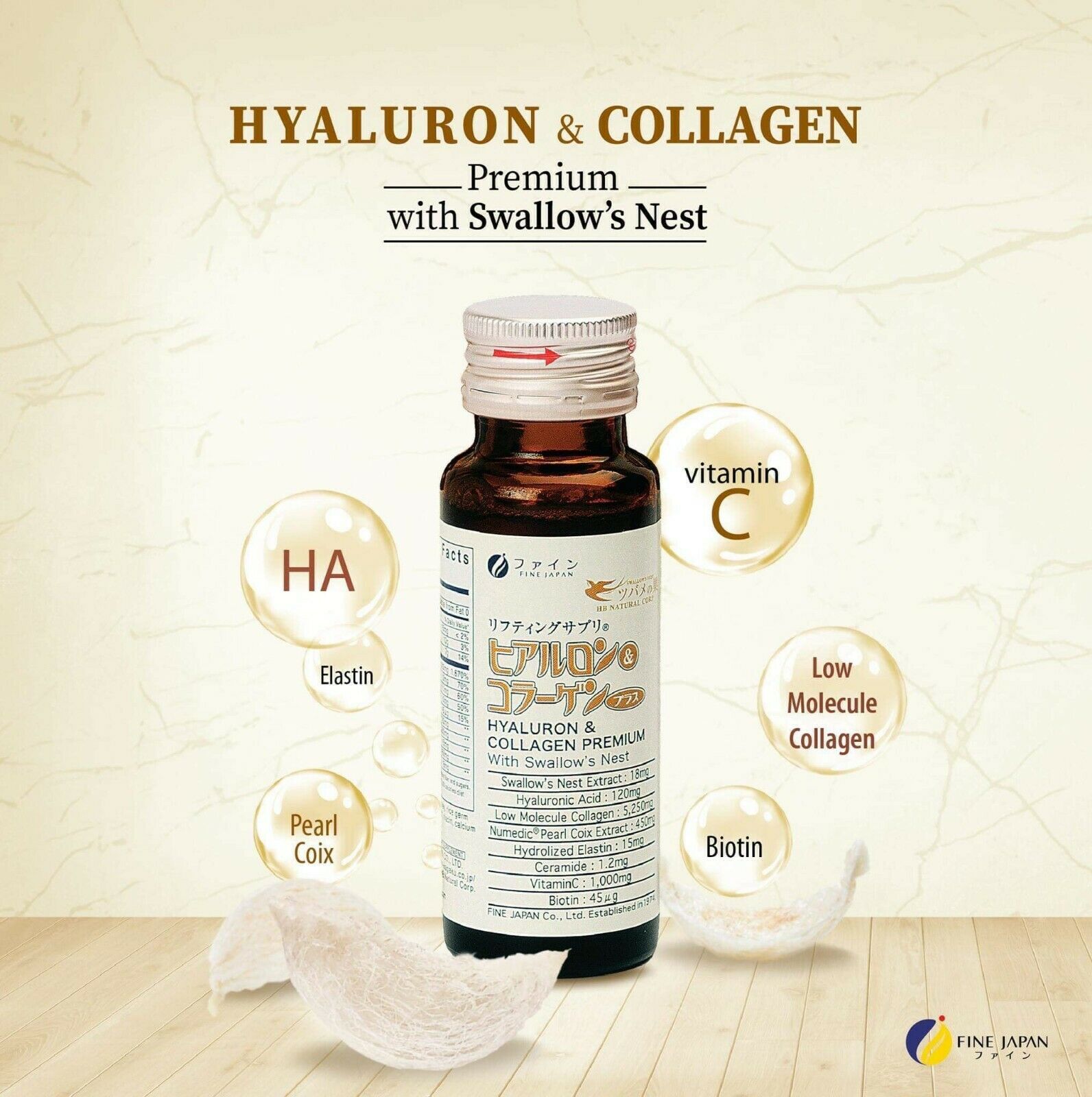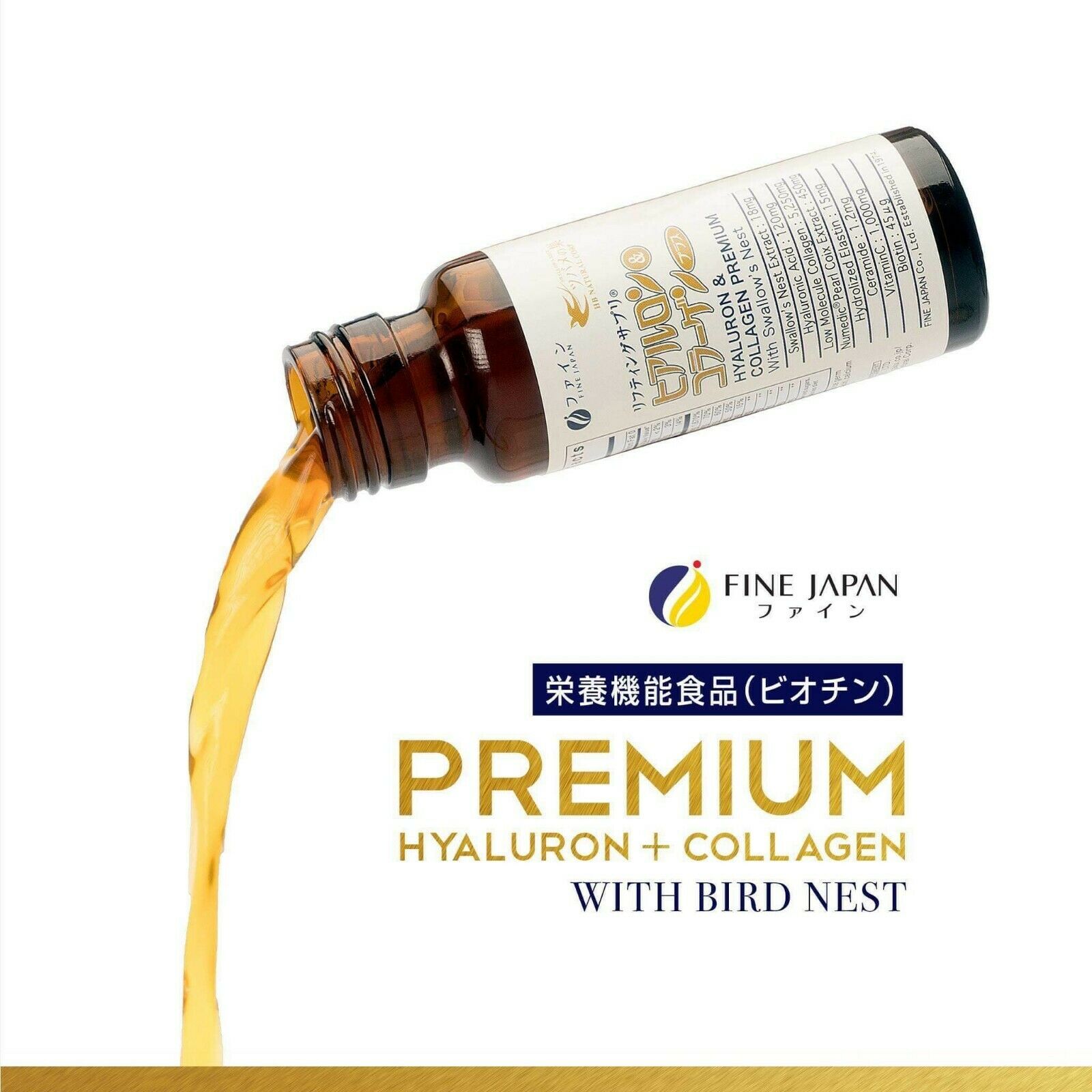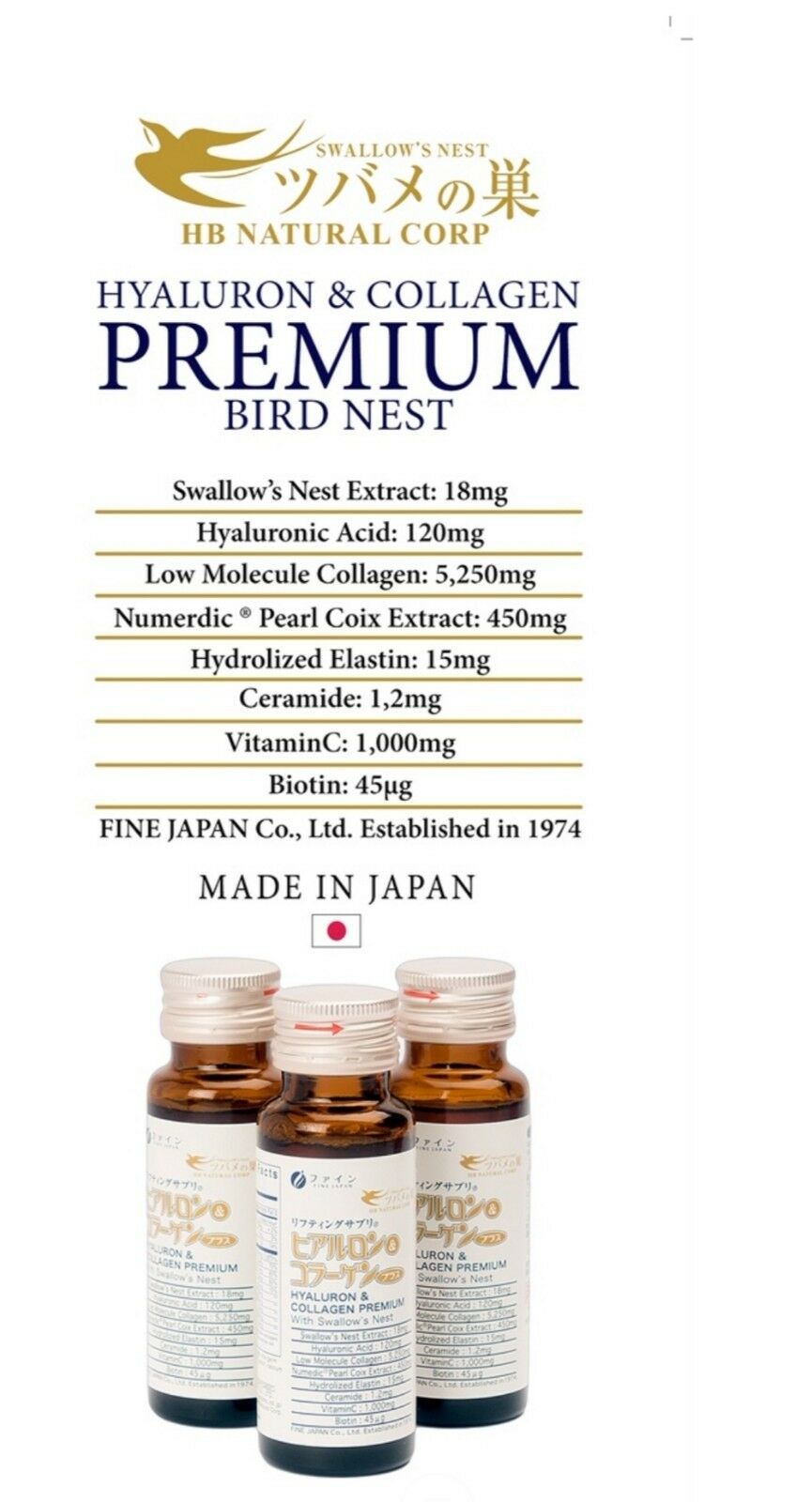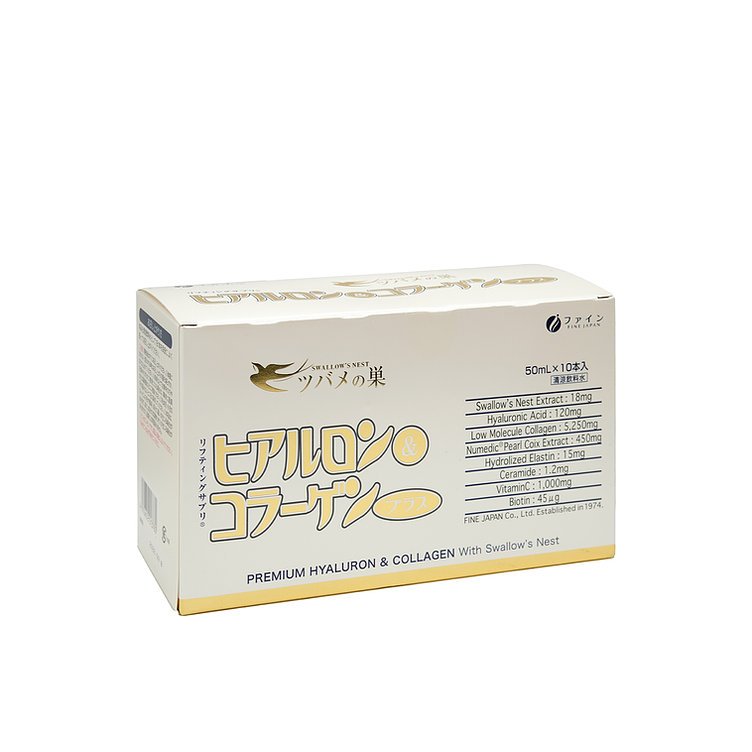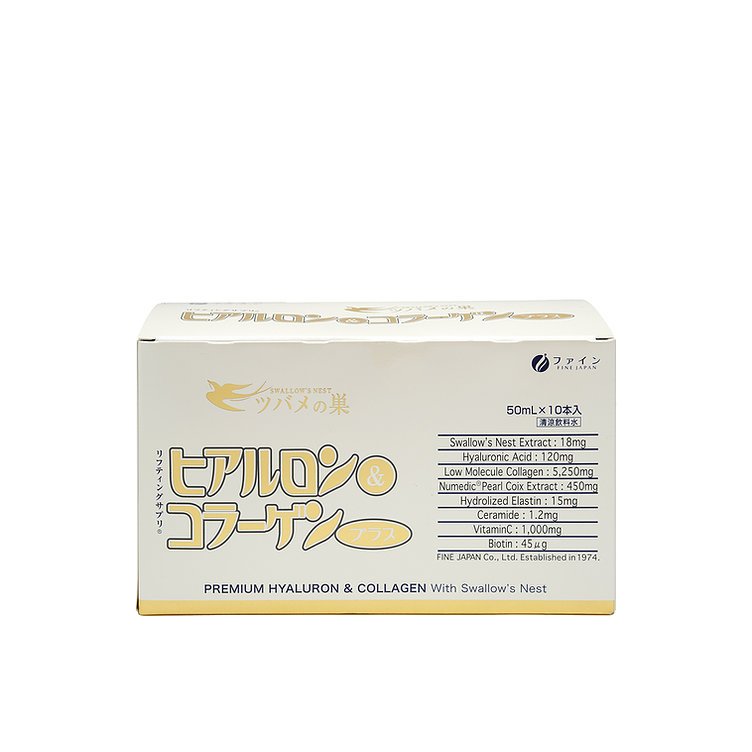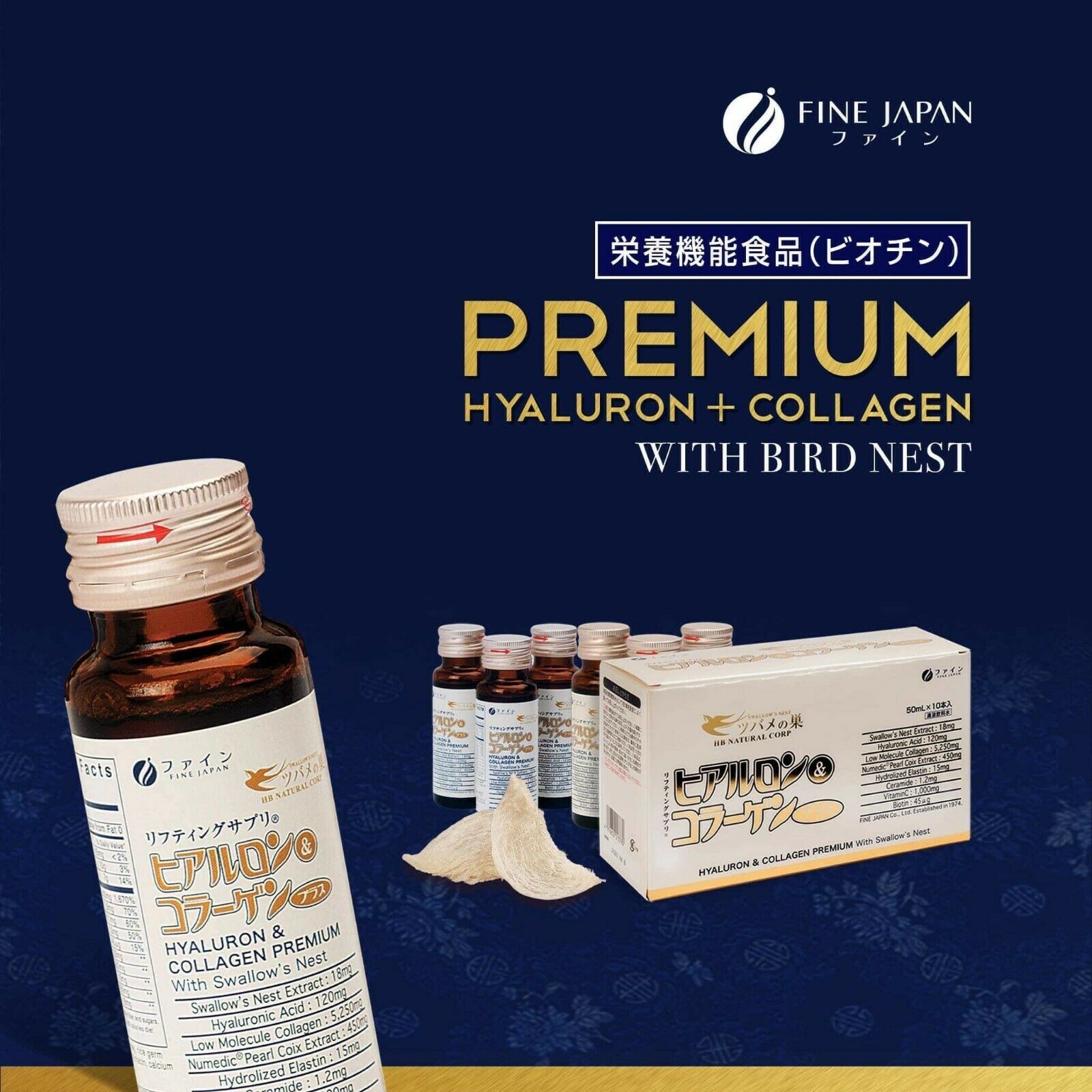 Tags: affordable care act, and eliminate toxins, beauty, best health care, Collagen, elasticity for bones and joints, enhance overall health, health, health and fitness facts, health and fitness. healthy lifestyle, health and wellness, health care, health care system, health insurance, healthcare management, help regenerate cells, holistic health care, home health care, improve the body, Prevent skin aging, prohealth fitness, Swallow's nest essence helps purify lungs, united healthcare